About Shiri
Shiri ("Song of my soul" in Hebrew) Freda Appleby was born on December 7, 1978 in Los Angeles, California. Appleby began her acting career at the age of four, starting with advertising for various products such as Cheerios and M&M's. She was only a teenager when she was nominated for the role in "Perfect Family" (1992) for a "Young Artist Award" in the category "Best Young Actress in a Cable Movie". She also guest appeared in numerous series, such as "Xena: Warrior Princess", "7th Heaven" and "Beverly Hills, 90210". But her international breakthrough should follow only in 1999.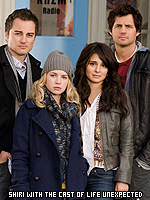 She auditioned for a new series called "Roswell" and she got the leading role as Elizabeth "Liz" Parker, a teenager, who lives in Roswell and falls deeply in love with an alien. This series continued only with a lot of fan support up to the third season.
Her most successful leading role was in the movie "Swimfan" (2002). She has had numerous roles in films, including more recently "Charlie Wilson's War" (2007). In 2008, Appleby got a recurring role on the final season of "ER", playing an intern named Daria Wade. As of early 2010, Appleby stars in a new drama on The CW network called "Life Unexpected".
"There are a lot of different sides to me. 
  I don't know if I'm always peaches-and-cream..."
More?