About Pretty Little Liars
Pretty Little Liars is a series of young adult novels by Sara Shepard. The series follows the lives of four girls — Spencer, Hanna, Aria, and Emily — whose clique falls apart after the disappearance of their leader, Alison. Three years later (one year on the TV series), they begin receiving various messages from someone using the name "A" who threatens to expose their secrets — including long-hidden ones they thought only Alison knew.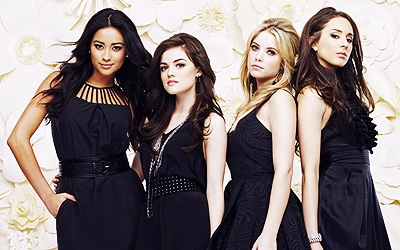 Originally developed as a television series by book packaging company Alloy Entertainment, the idea was described as "Desperate Housewives for teens." Alloy met with author Shepard, and gave her the property to develop into a book series. With Alloy and Warner Horizon interested in producing a Pretty Little Liars television series for years, it was first planned for The WB in 2005 with a different writer until the network shutdown in early 2006. The first novel was published by HarperTeen in October 2006. In June 2008, Alloy noted that it was developing a Pretty Little Liars television pilot for ABC Family, with the novels adapted for television by Marlene King.
ABC Family began casting for a Pretty Little Liars television pilot in October 2009. On January 27, 2010, ABC Family picked up the series for 10 episodes, set to premiere in June 2010. The show premiered on June 8, 2010. After an initial order of 10 episodes, on June 28, 2010, ABC Family ordered an additional 12 episodes for season one.
The theme song for Pretty Little Liars is "Secret" by The Pierces.